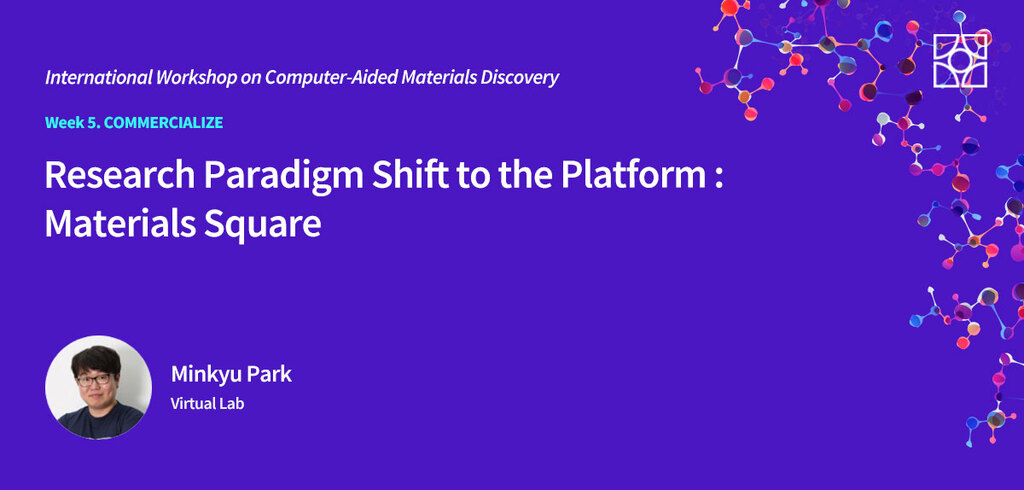 [E-1]
Research Paradigm Shift to the Platform : Materials Square
Minkyu Park (Virtual Lab)
Main Talk by Minkyu Park :
Hello, everyone. This is Minkyu Park from Virtual Lab. I'm really appreciate you guys be here for this talk. Today, I'm here for introduce "Research Paradigm Shift to the Platform : Materials Square"
Virtual Lab is a five-year-old startup that provides global services.
In the first part of the presentation, I would like to tell you why we started a business with these items. I did not say "success story of Virtual Lab". This is because Virtual Lab is still growing today. This is not only my story, but Virtual Lab's story. I would like to say "we" instead of "I"
We were doing simulation research in graduate school, and there was one thing I realized.
It was true that not all researchers in simulation laboratory were IT experts. I thought everyone doing simulation research is an IT professional. However, the problem is, we had to become familiar with IT technology in order to do simulation research.
In the case of graduate school colleagues, there were four major pain points.
Hardware management, LINUX environment and coding/scripting for simulation modeling and pre/post processing. After mastering these three things, finally, we could do scientific research.
Imagine this situation, you are new in materials simulation. It takes few months for LINUX environment and another few months for HPC management. It passed half year. Finally, you could do scientific research, but only one year left for defense of master's degree. What if you are experimental guy, situations are not so far. We think it is not efficient and not reasonable research way.
This is not only problem. In the case of simulation research, numerous calculation engines, visualization tools, and a lot of code to pre/post-process the calculation results were required. However, we always had to think about, which code was appropriate for our research and how to use it. There is huge mountain we had to climb or overcome. So we thought. "How can we make an environment where researchers can focus on research?"
Very first time, it was not a concept of platform.
We thought if we could make such a "research environment" with a "web based", we could concentrate on research, sorely. It is going to be great if we build a service from the HPC management system (such as job scheduler, parallel environment), to backend and frontend system
We have released "VASP on web" in 2012.
In the VASP on web, there were several basic functions are included.
There is the automated scripting generator for the simulation, structure visualization, project-based job management system and post-processing tools. After release VASP on web in our lab, all things were going to be effectively changed.
Few years later, we moved to Korea Institute of Science and Technology (KIST). In here, there was a demand to develop an application-oriented thematic simulation platform,
and this was a project that made it easy for people who do not know simulation to be able to do simulation on a thematic platform. So, we have designed thematic materials simulation for people who has elementary knowledge of materials and simulation. It was called VFab and iBat.
VFab is a kind of virtual laboratory. You can prepare your sample, calculating and analyze together. It has designed for beginners. Also, iBat is a simulation platform for Battery Materials. It is separated by battery compositions, such as anode, cathode and electrolyte. iBat is sorely thematic simulation platform, particularly for battery. In this point, we thought "VASP on web has designed for simulation guy and Vfab and iBat is for the beginners. So, It will be the great if we could make middle of those."
So, we have decided to make materials simulation on the cloud. It called "Materials Square"
There were several reasons for "cloud management system". Not only we do not have large data centers, but also because we could use cloud services with reasonable price, and it has the best performance. In the initial version of materials square, only basic functions based on QE were provided. Now, as well as QE, various simulation engines such as LAMMPS, GAMESS, and CALPHAD have been added, and they are provided through a pipeline called "Work" by dividing them into thematic/non-thematic types.
Materials Square has introduced a lot of great engine and post-process code and now has so many features. In addition, it is continuously excavated and mounted today. We will develop Materials Square as a platform that provides an integrated research environment. This is a Virtual Lab story, Virtual Lab creates a new paradigm of scientific research via clod and platform.
So, next. I want to give a talk "Materials Square". In this part, I'm going to start from brief introduction to why we should introduce simulation on your research and web-based materials and chemistry simulation platform Materials Square.
In 1879, Thomas Edison has invented light bulb by using Japanese Bamboo. He intensively tried to make filament more than 1000 times. This is called "Edisonian Approach". Interestingly, in modern industries and laboratories, they still use Edisonian Approach. I mean, Edisonian approach is not bad method. However, the problem is, every single trial we should pay for that and it is getting expensive because of raw materials and complex procedures of fabrication. We don't need to concern about trial expenses 200 years ago, because it was very cheap. In modern processes, rare elements or expensive materials are frequently used, so we should worry about every trial. Also, the procedures of fabrication have drastically changed. For example, there are at least 100 processes to make NAND memory.
The research paradigm should be changed to the "In Silicon approach", which is based on the computer simulation. what if we already knew about good starting points or origins of the failures?
Before performed the experiment, the simulation screens many candidates based on the theories and laws. I want to give you one example for this. In the field of polymer industry, particularly Liquid Crystal Polymer, Japan industries led to this market. Many follow companies want to make better quality LCP material. However, it is impossible to follow up lead company through Edisonian approach. We should introduce or find better way. We believe in one of the best candidates is in silico approach.
Many of us already knew about in silico approach is the best candidate for reasonable and efficient R&D method. However, why people feel difficulty to adopt simulation on their research? Because, there are too many barriers. Expensive equipment, domain knowledge and complex Linux environments.
In order to perform simulation, we need to buy equipment, especially high-performance computer. It spend more than $200K + we should pay for the maintenance fee every year. Not only this barrier, but also we should learn new kind of physical background. Maybe, you are familiar with physics or chemistry, but you should know about computational physics and computational chemistry. It is very different story. Last barrier is Linux. You guy may be familiar with Windows or Mac environment. However, most of computer simulations are working under Linux environment. Even, we don't have enough time to do own research but also do we should know about Linux? It is going to be big barrier.
So, Virtual Lab introduce cloud-based simulation platform, Materials Square. Materials Square is materials and chemistry simulation platform on cloud. Customer could perform "simulation modeling", "calculation" and "analysis" at once. You don't worry about equipment, domain knowledge and complex Linux system. As you may well know, simulation has been used in many fields, such as Semiconductor, Metal, Ceramics and Polymer industry.
I would like to show you applications for Semiconductor industry.
Li-ion battery is quite hot topics in semiconductor industry. You may design next generation battery, analyze for degradation, and charge capacity, voltage and speed for instance. Not only battery industry, but Memory, Solar cell even display industry frequently used computer simulation.
I would like to introduce success story of materials square. One experimental guy wants to design low power switching of next-generation memory, phase change memory. At that time, there are 29 dopant candidates in his hands, it takes approximately 6 months by experiments. He should reduce experimental time, so decided to introduce simulation. Finally, computer simulation screens many of candidates and successfully synthesized phase change memory materials.
What about Metal and ceramic industry?
Alloy or Manufacturing process also adopted computer simulation to improve performance and design. Many tools can be manufactured by ceramics. For example, cutting tools, break-pad, and artificial teeth. It is quite important to which materials are good at mechanical properties and corrosion-free.
Last applications are chemical and polymer industry.
In COVID-19 situation, there are eco-friendly polymer arisen to be big issues. By using computer simulation, you may design eco-friendly polymer with high mechanical strength. Besides eco-friendly polymer, there are many issues regarding polymer industry. Elastomer, conducting materials and catalysis are also very important parts.
I will show you some examples for polymer properties calculation on Materials Square.
BHET is a monomer produced by decomposition of PET. When you dispose of PET in the recycling bin, it is processed into flakes and converted to BHET through glycol and methanol decomposition.it is quite important procedure in plastic recycling process. Every simulation starts from modeling. In materials square, you draw monomer or polymer directly by using Ketcher, or load from Open database. Next step is Simulation set-up including calculation method and parameters. You look little bit complex, but it is professional mode. You may use pre-set-up parameters according to your purpose. Last step is analysis. You can connect analysis module and calculation module to get results. You also get energetics, electronic, vibrational, and geometric properties.
I briefly demonstrate phonon calculation on Materials Square.
The procedure as follows, First, Simulation modeling. Second, Calculation set-up. Last, Analysis.
There are few competitions whole around the world, because materials and chemical computer simulation is still blue ocean. Materials Design and Synopsys are big company in this field, but they did not provide cloud-HPC or consulting service. Also, you should pay for the entry cost and annual license fee. However, you don't worry about those kinds of things. You only pay for the service, "Meter based pricing". I will let you know more details about pricing model of Materials Square. You only pay for the computing resources usages. Basically, $0.25 per CPU hour. You don't need pay for the simulation modeling or analysis. Virtual Lab also provide thermodynamics database with very reasonable price. Last one is machine learning based polymer properties prediction model. It provides subscription model and depending on the how many properties of polymer want to predict. This is bulk package; you may get maximum 50% off through this. There are many customers concerned about pricing. Because they don't know how much should pay for each calculation. So, Virtual Lab release unlimited plan. You don't worry about pricing if you subscribe unlimited plan.
The most striking features in Virtual Lab, we provide professional supporting plan. Customers always face to trouble with simulation. Of course, it could be. Professional consultant, who has doctoral degree, always ready to help them. There are two kinds of plan, Pro and Business, depending on the frequencies of meeting and supporting area.
This is Traction and performance of Virtual Lab.
Virtual Lab has more than 7,000 users with different 67 nations. Also, many universities and national institutes introduce Materials Square, you may know UC Irvine or University of Tokyo, Korea Institute of Science and Technology is the biggest national institute in Korea. I want to list-up for the industries, but it can't be due to the NDA. Anyway, there are several big industries in Korea and US working with Virtual Lab. According to the statistics in Virtual Lab, Last year, we are 1M USD in revenue, 3.7% paid user and $1,733 customer transaction. As Simulation market size incredibly expand recently, we expect more than 2M USD in revenue this year.
I have mentioned previously, we have lots of trials and errors to marketing strategy. Here is an example of one of the most successful marketing activities. This workshop. I will summarize again on closing remark, but It is quite impressive for us. This workshop to be held from May 28, 2021 (Korean time) to today. Through this workshop, more than 8 times the new user inflow was achieved. In addition to these international workshops, we are continuously researching effective marketing tools.
This is milestone for 5 years of Virtual Lab.
Virtual Lab has successfully developed inorganic materials, organic molecules and polymer simulation platform. From 4Q of 2021, we are going to start Biomaterials such as new drug simulation to 2022 2Q. Finally, Virtual Lab believe that all engineering R&D environment can be integrated in materials square. We will try to make real "R&D square".
This is our team. We consist of 17 members, including 5 Ph.D. The business area of web-based simulation platform is quite unique and transparent, we believe in that the most powerful thing in Virtual Lab is team building. Also, one more important thing, we know cutting-edge simulation technique and have domain knowledge, such as physics, chemistry. Therefore, we are going to change research paradigm shift to the platform.
I think this is the most important part. Why Virtual Lab. Virtual Lab always tried to find "companions" to change research paradigm. So, I'm pretty sure that Virtual Lab has strong team. They got not only strong domain knowledge, but also mature experience. Second, Virtual Lab is Unique and transparent. No one could success on cloud-based simulation platform. Virtual Lab will do that. Virtual Lab is open-minded, so we are going to expand bio, medicine and even food research area.
Summary here, this is Virtual lab value proposition.
Virtual Lab provides state-of-the-art materials and chemical simulation on cloud. Anytime professional consultants are ready to support your research.
Video
* You can download the full script pdf file and watch the recording on the workshop page.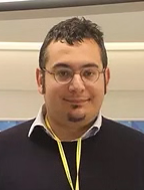 Summary
Gabriele Mogni
Virtual Lab Inc.