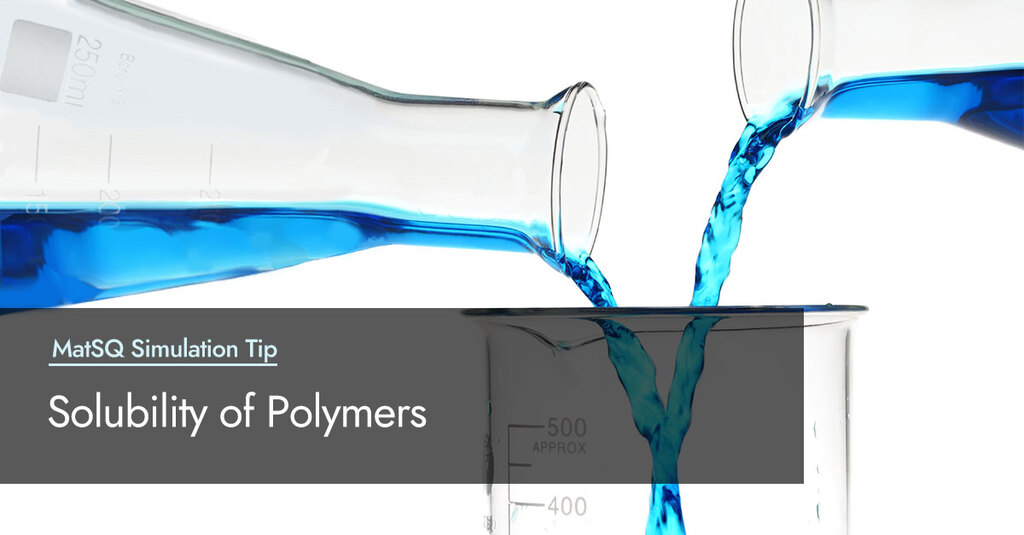 INTRODUCTION
The solubility is an important chemical property of polymers that defines their ability to be dissolved in liquid solutions, through the aid of a solvent. Whenever a polymer solute can be dissolved in a solvent in this way, the solvent and solute are said to be miscible. Such polymeric structures typically takes up a large volume even for low molar concentrations. This can help to make polymer solutions quite viscous, a property which can be exploited commercially in a variety of industrial applications, including for example paints and processed food. Here, the dissolved polymer typically acts as a thickening agent within the resulting liquid substance.
In general, full solubility is a property that applies primarily to linear polymers only. Cross-linked polymers, on the other hand, may only be partially dissolved. Their complex structures in fact generally prevent solvent molecules from bringing individual polymer units into the solution. The dissolution of polymers into liquid solutions is furthermore typically a very slow chemical process, which can easily take multiple days in order to complete. In general, the higher the relative molar mass of the polymer solute is, the slower this dissolution process becomes. Besides crosslinking, other polymer structural factors that may influence its solubility by hampering the dissolution process include increased degree of crystallinity and the absence of chain branching.
THE SOLUBILITY PARAMETER
It is almost always the case in solubility chemistry that "like dissolves like". This degree of similarity between solvent and solute may for example be expressed in terms of similar chemical groups or similar polarities.
From a quantitative point of view, the solubility of a chemical product into a solvent is determined by the change in Gibbs free energy ΔG=ΔU+PΔV-TΔS upon mixing of the two components, compared to the sum of their free energies as separate products. A negative change in such Gibbs free energy of mixing indicates that the dissolution process is thermodynamically favourable. Under such conditions, dissolution will thus proceed spontaneously, since the solution is more energetically stable that the two components taken separately. The entropic term TΔS in the Gibbs free energy of mixing is in general always positive, due to the disordered solution always having an higher entropy state than the solvent and solute taken separately. Consequently, whether ΔG is positive or negative depends entirely on the magnitude of the enthalpy (heat) of mixing ΔH=ΔU+PΔV.
It turns out that for most solvent-solute combinations in the world of chemistry, the heat of mixing is usually positive, thus hampering the dissolution process. In order to overcome this resistance towards mixing, the solvent and solute are typically required to somehow attract each other. Examples of how such an attraction might unfold include the two components having opposite polarities, forming an acid-base combination, or via the formation of hydrogen bonding. However, for relatively nonpolar organic compounds, such as most polymer compositions, the heat of mixing with common solvents is usually positive, indicating an unfavourable dissolution propensity. Only a minority of polymers in existence can therefore in general be dissolved effectively.
In the investigation of the favourability of a certain solvent-solute combination to form a fully-mixed solution, the so-called Hildebrand solubility parameter δ can be considered for each of the solvent and polymer solute. This parameter provides a numerical estimate for the degree of solubility and miscibility for a given solvent-solute pair, particularly for nonpolar materials such as is the case of numerous polymers. The Hildebrand solubility parameter is defined as the square root of the cohesive energy density of a certain substance. This is defined in turn as the amount of energy required to completely separate all molecules within the substance from their neighbours. In order for a polymer material to dissolve, in fact, these same inter-molecular interactions need to be overcome, as the dissolution process demands that such polymer molecules are separated from each other and become completely surrounded by the solvent's molecules instead.
Generally, it is found that the heat of mixing of two substances together depends on the following factor: (δ 1-δ 2) 2 , where conventionally 1 refers to the solvent and 2 to the polymer solute. This squared quantity can be used as a useful reference guide for exploring the solubility and miscibility potential of certain polymers with certain solvents. Generally, the smaller the difference between their two solubility parameters, the more favourable and feasible the synthesis of this solution should turn out to be in an actual experiment.
The two tables below (reproduced from Ref. [1]) summarize the solubility parameters of common solvents and polymer solutes, respectively.
In general, as long as the difference in solubility parameters between solvent and polymer solute is less than about one (cal/cm 3) 1/2, the dissolution process should be possible and favourable. It will thus occur spontaneously upon contact and mixing of the two substances together. Some important factors which affect the solubility parameters of both the solvent and polymer solute include their molecular weights and temperature.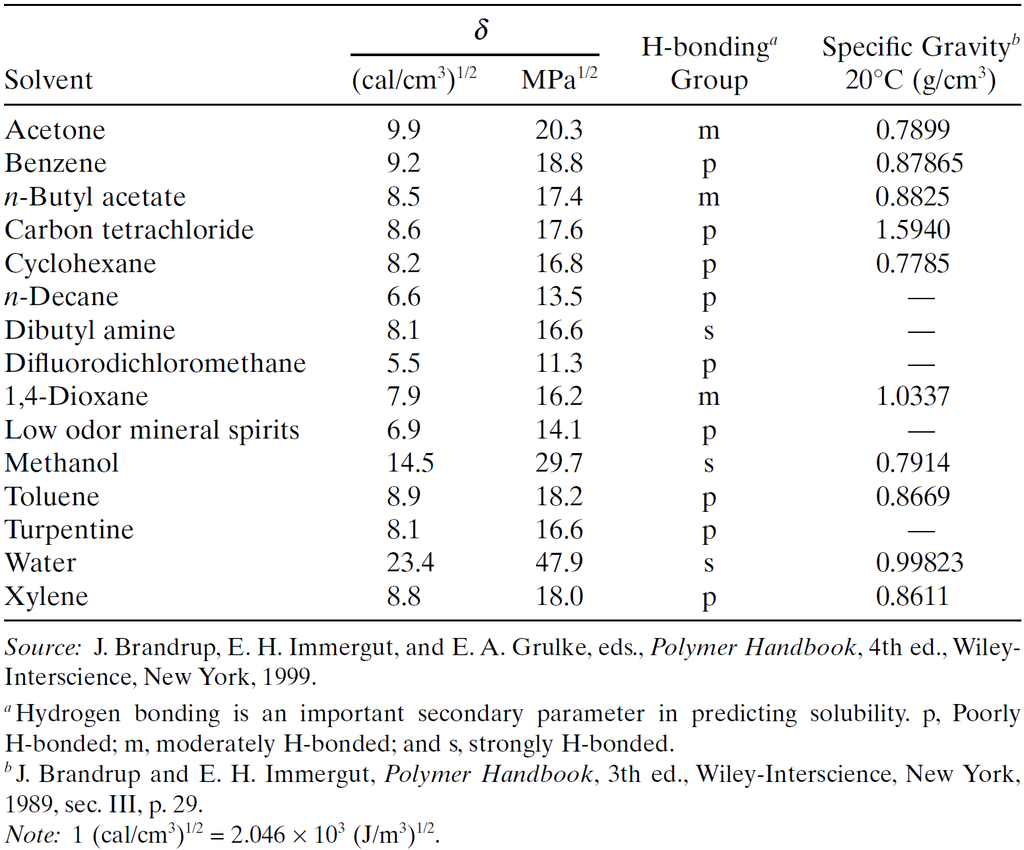 Solubility parameters of some common solvents[1]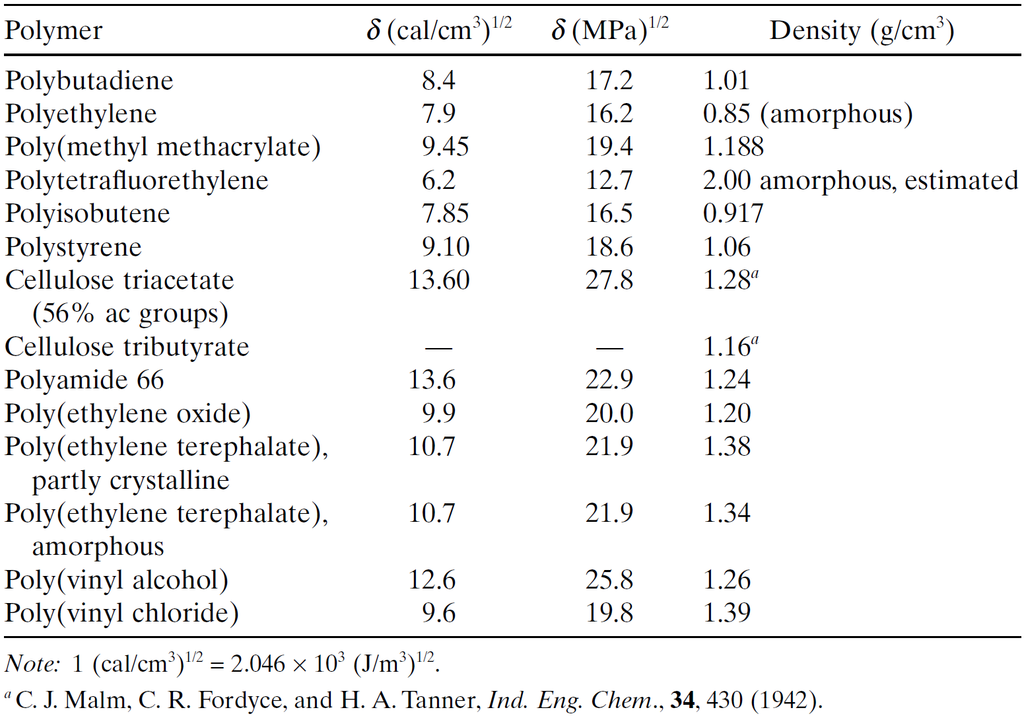 Solubility parameters and densities of common polymers[1]
COMPUTATIONAL DETERMINATION OF POLYMER SOLUBILITY
The Hildebrand solubility parameter δ of polymeric materials undergoing dissolution in a solvent can be computed through simulation techniques such as classical Molecular Dynamics (MD), as implemented for example by the LAMMPS code. MD is a computational technique by which the atomic trajectories of a system of numerous particles are generated by numerical time integration of Newton's classical equations of motion, within a given statistical ensemble. Classical MD codes have in fact proven to be effective in determining both the molecular structures and physical/chemical properties of polymer-based materials. This depends of course on a judicious choice for the interatomic potential, otherwise known as force field, governing the conduct of atomic motion and interactions during MD simulations.
Within the LAMMPS code, the Hildebrand solubility parameter of a certain polymer solute can be related to its Cohesive Energy Density (CED). In classical molecular dynamics simulations, the cohesive energy essentially corresponds to the intermolecular nonbonded energy averaged over an equilibrium statistical mechanical ensemble of liquid configurations. In practice, such computation can require the examination of many thousands of individual configurations. Hence the need for the full automation of this operation.
The LAMMPS (Solubility Parameter) module provided by Materials Square has implemented the above methodology. This module therefore allows the user to perform the calculation of solubility parameters using the cohesive energy density.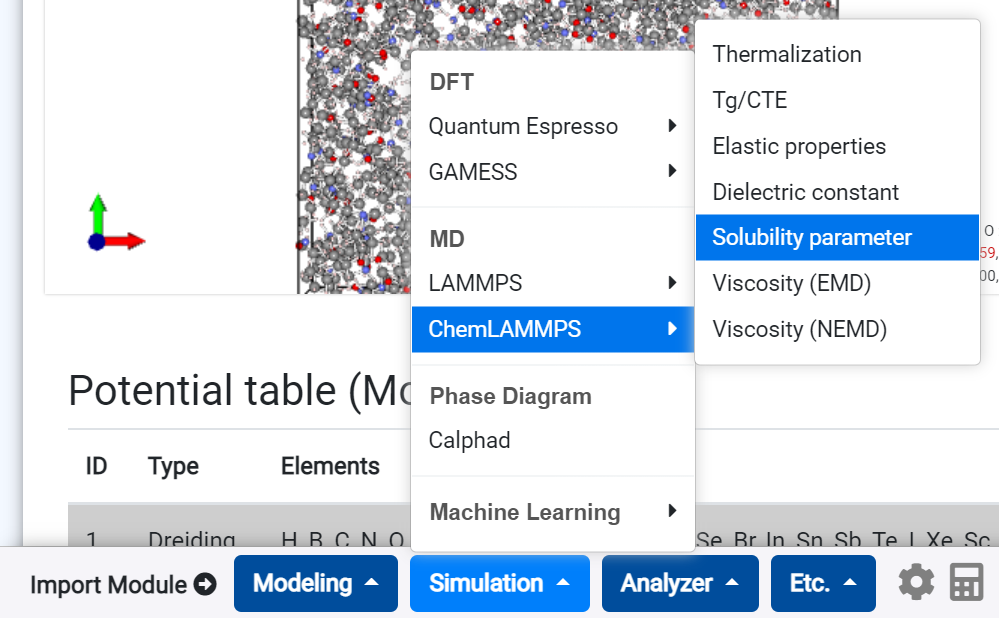 INDUSTRIAL APPLICATIONS OF POLYMER SOLUTIONS
As mentioned before, even low concentrations of polymer solute may give rise to highly viscous solutions. Polymer solutions are therefore often used as thickening agent in order to increase the viscosity of the resulting product.
An example of industrial application of a cellulose-based polymer is sodium carboxymethylcellulose in the context of its use in a variety of foodstuffs. It is for instance employed in order to prevent the formation of ice crystals in ice creams, to fine-tune the consistency of cheese spreads, to stabilize the manufacturing process of salad creams, and finally also to thicken toothpaste and make it more effective and portable.
The image below illustrates an example of adoption of the carboxymethyl cellulose thickening polymer and emulsion stabilizer (often commercially referred to as "Cellulose Gum"), listed among the ingredients present within a toothpaste product: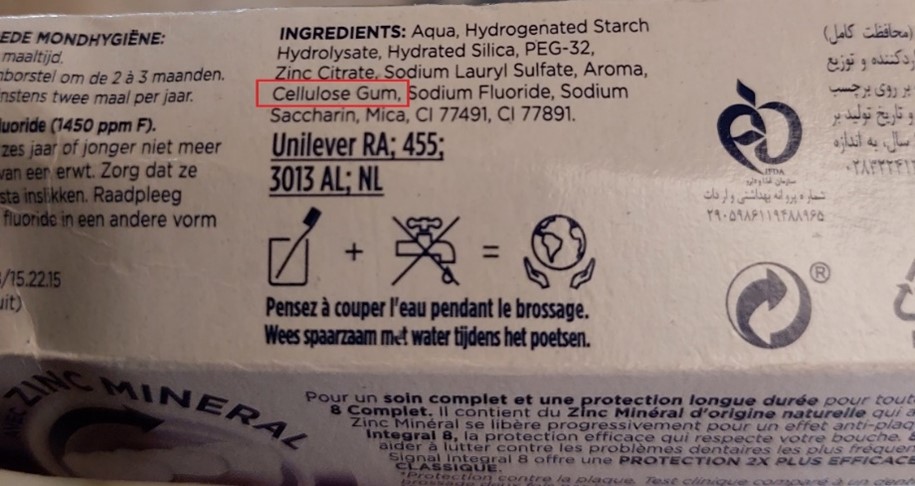 Other examples of the industrial and commercial applications of polymeric thickening agents include pharmaceutical preparations, cosmetics and textile manufacturing, lubricants, paper production, and oil well-drilling fluids.
A further important industrial application of polymer solutions is in waste water treatment. Firstly, there are the organic coagulants, for example polyamines, polyDADMAC, etc., which are used for treating water with low suspended solids content. Secondly, the organic flocculants, especially polyacrylamides and polyethylene oxides, are particularly useful for sludge treatment, that is waste water with abundant quantities of suspended solid content. In both cases, the polymer solutions enable the thickening and dewatering of the sludge, that is the separation of the water from the solid particulates contained in it, in order to make the water clean and drinkable again. This is achieved by the formation of large dense solid "flocs" (hence the term flocculant), consisting of loosely-clumped masses of fine particles, which facilitate the separation from the liquid.
REFERENCES
[1]: L.H. Sperling, "Introduction to Physical Polymer Science" (John Wiley & Sons, 2006)
[2]: J.W. Nicholson, "The Chemistry of Polymers" (Royal Society of Chemistry, 2006)
[3]: "Water Soluble Polymers", SNF Floerger ( https://snf.com.au/downloads/Water_Soluble_Polymers_E.pdf)
[4]: Wikipedia article on "Hildebrand solubility parameter" ( https://en.wikipedia.org/wiki/Hildebrand_solubility_parameter)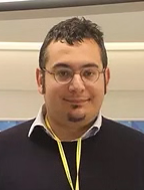 Author
Gabriele Mogni
Virtual Lab. Inc.