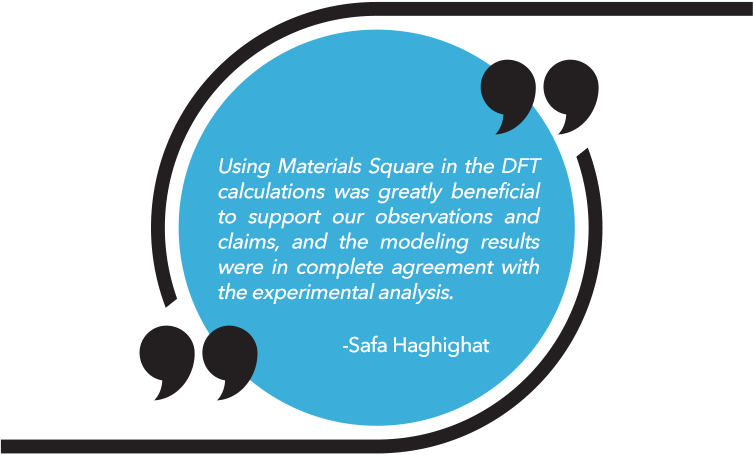 Safa Haghighat, a Ph.D. candidate at Yonsei University, is one of Material Square users. Her paper, which included the simulation results got from MatSQ, was published in ACS Applied Materials & Interfaces. She had no simulation experience before encountering MatSQ. We asked for an interview to hear about her experience as an experimental scientist who applied simulation through MatSQ in her research.
Q: I want to offer my congratulations on the recent publication of your paper. You did combine simulation, which you have never experienced before, and experimentation in your paper. How did you feel about introducing computational science into your research as an experimental scientist?
Safa: Thank you. You're right. It was my first time to report modeling data along with my experimental results. Although it was a little tough and challenging to learn the necessary details of DFT and start my calculations, the final result was very surprising and satisfying. I could confirm my experimental results with the help of DFT calculations. In fact, the modeling added extra view and value to my experimental novelties.
Q: What led you to use MatSQ?
Safa: My colleagues and I have heard about MatSQ in the IUMRS-ICEM-2018-Daejeon conference. It was a great opportunity for us to use this computational service to validate our experimental analysis from a theoretical viewpoint.
Q: What role did MatSQ play in your research?
Safa: In our most recent publication (ACS Appl. Mater. Interfaces 2019, 11, 32815-32825), we presented our findings regarding the utilization of layered structures as anode materials that can realize astonishing battery performance in Li-ion and Na-ion batteries, contrasting with the conventional viewpoint that amorphous components are better suited to controlling the large volume variations in anodes (Si, Ge and Sn) during repeated cycling processes.
Our work constituted a fundamental scientific study based on experimental characterizations to clearly illustrate the volume-change endurance of a layered material (germanium phosphide, GeP5), which is relative to its amorphous counterpart. Using MatSQ in the DFT calculations was greatly beneficial to support our observations and claims, and the modeling results were in complete agreement with the experimental analysis.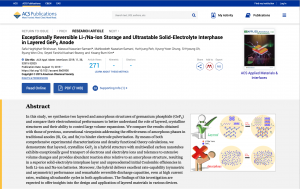 ACS Appl. Mater. Interfaces 2019, 11, 32815-32825
Q: Will you recommend MatSQ to other researchers?
Safa: I certainly do. MatSQ has a user-friendly environment with many types of calculations features. More importantly, Mr. Lee and his colleagues from Virtual Lab are always ready to answer the questions and hesitations and solve the challenges. I highly recommend it to beginners, because they have the opportunity to learn and run their simulations step by step with the help of kind, responsible, and supportive admins.
Q: Recently, MatSQ has been released the third version. Do you any plan to use MatSQ in your future research?
Safa: In fact, I'm using it now to complete the calculations for my next research work. Besides, I'm very interested in improving my knowledge about DFT calculations, because it's a powerful tool that supports several experimental evidences, and adds valuable points to my research.