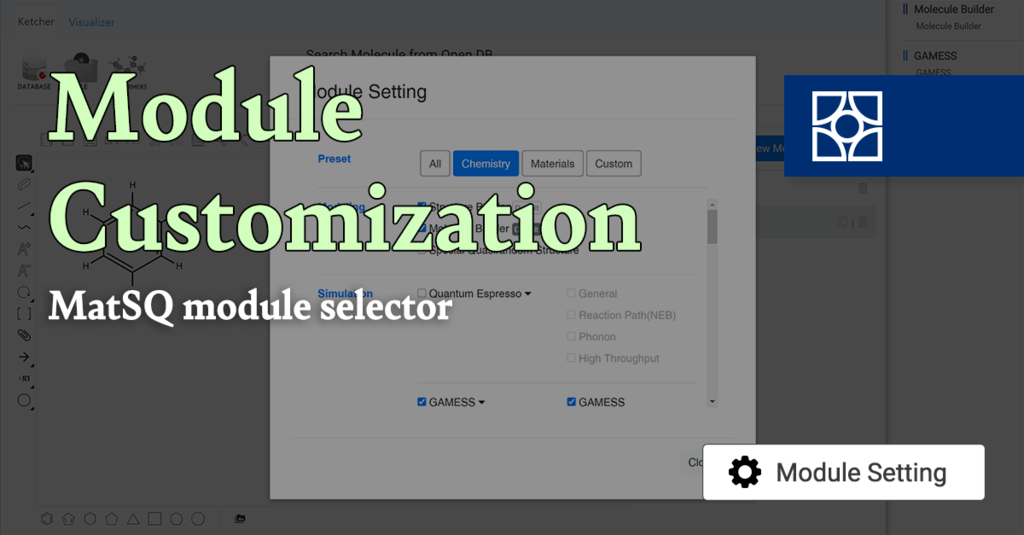 If you have ever performed simulation using Materials Square, you may have experienced adding the desired modules on the work page.
MatSQ has launched a new function, 'Module Setting', at the bottom of the work page. Here, you can check all available modules and organize modules for your workflow.
As new functions are developed and released sustainably, it might be difficult for users to find the desired modules. The 'Module Setting' allows you to select and organize the modules that you need.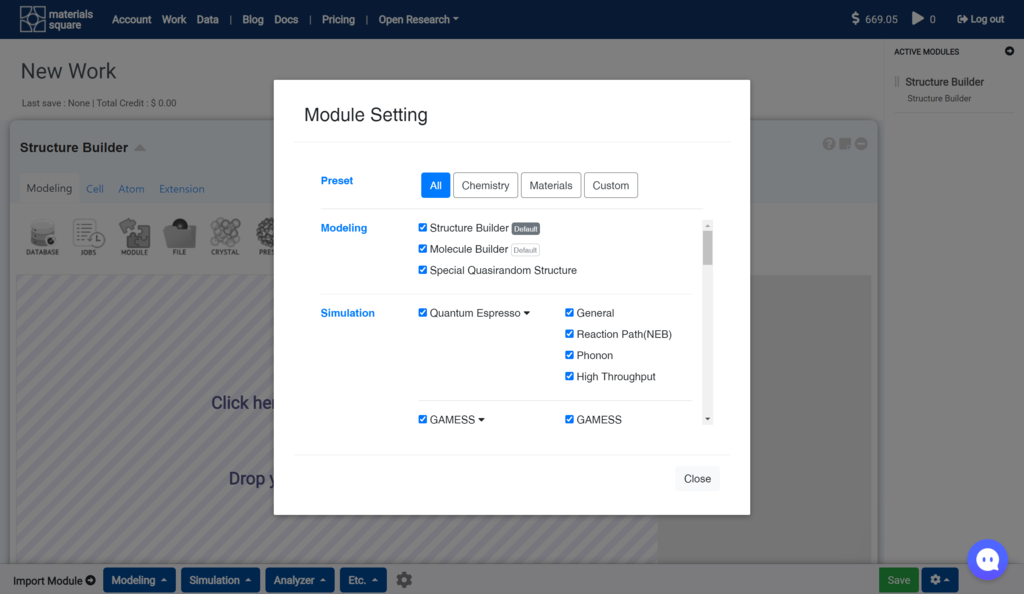 When you enter the 'New work' page for the first time after the update, the above pop-up window will appear. Here, you can set which modules will be displayed in the module selector.
The check sign in each checkbox means whether the module is shown in the module selector or not. If you don't want to display a module in the module selector, uncheck the module.
The selected module settings are automatically saved. After page refreshing (F5), you can see the applied settings on the 'New work' page.
The 'Preset' makes setting easy. For example, if you click the 'Chemistry', all modules are selected to be suitable for using GAMESS, which is recently released a DFT engine for the chemical field. The 'Molecular Builder' becomes the default for modeling. GAMESS, LAMMPS (Tensile), LAMMPS (Custom), and post-processing tools for GAMESS are also set to be displayed.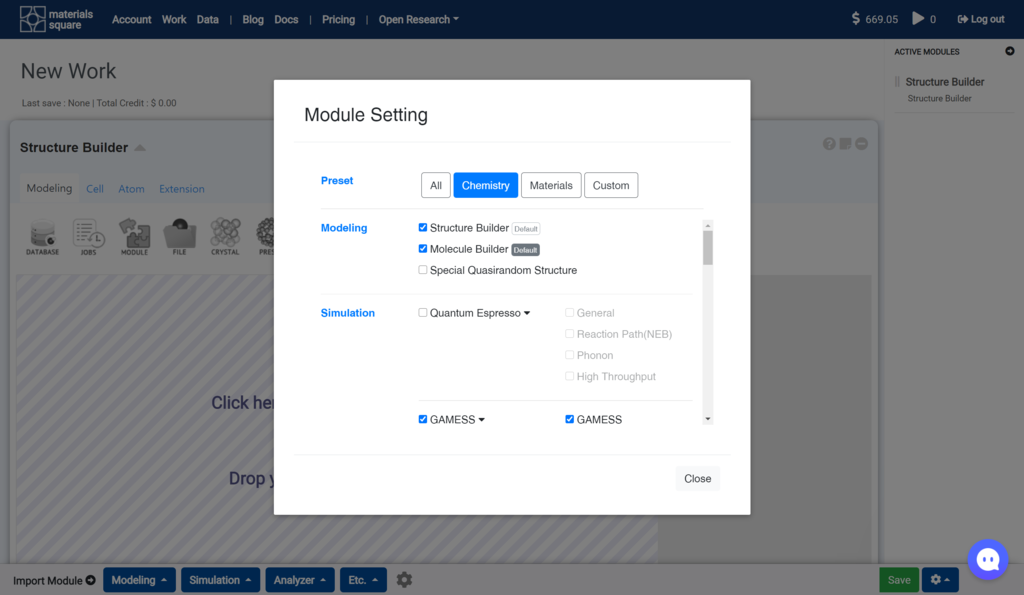 The above setting appears as follows.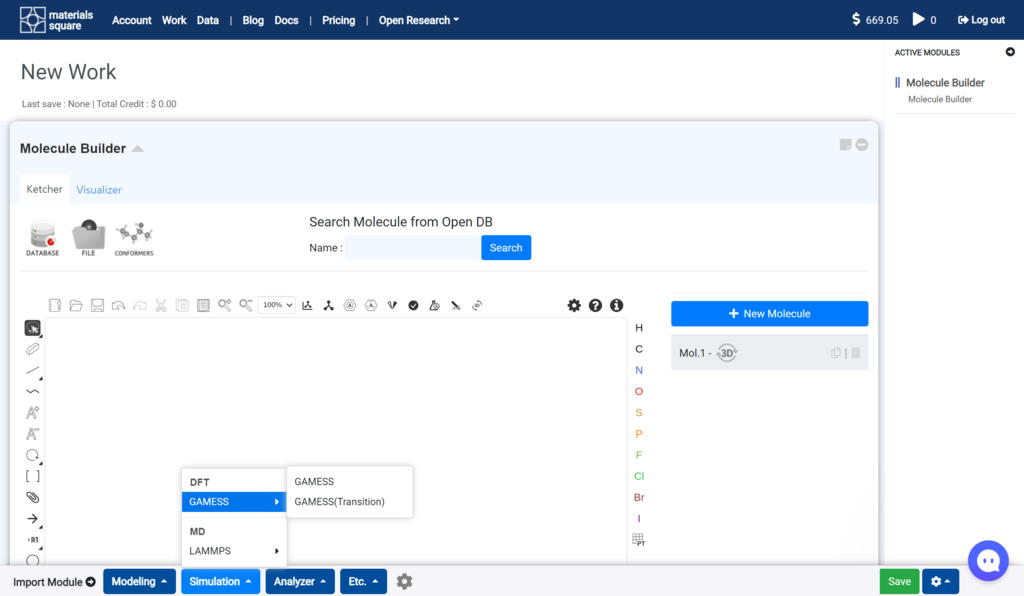 The most noticeable difference is that 'Molecule Builder' is added as an initial module when generating the 'New work.'
In the 'Module setting' window, you can see that the 'Molecule Builder' is set to 'Default' instead of the 'Structure Builder.'

Since the newly released GAMESS module is suitable for DFT calculation of molecules, it is more appropriate to use Molecule Builder than Structure Builder, which is ideal for modeling crystals. Therefore, in the 'Chemistry' preset, the Molecule Builder is set as the default among Modeling modules.
If you click the 'Default' button of Structure Builder in this setting, it will switch to the 'Custom' Preset as follows. If the module combination is not specified in the Preset, it is automatically recognized as a custom preset.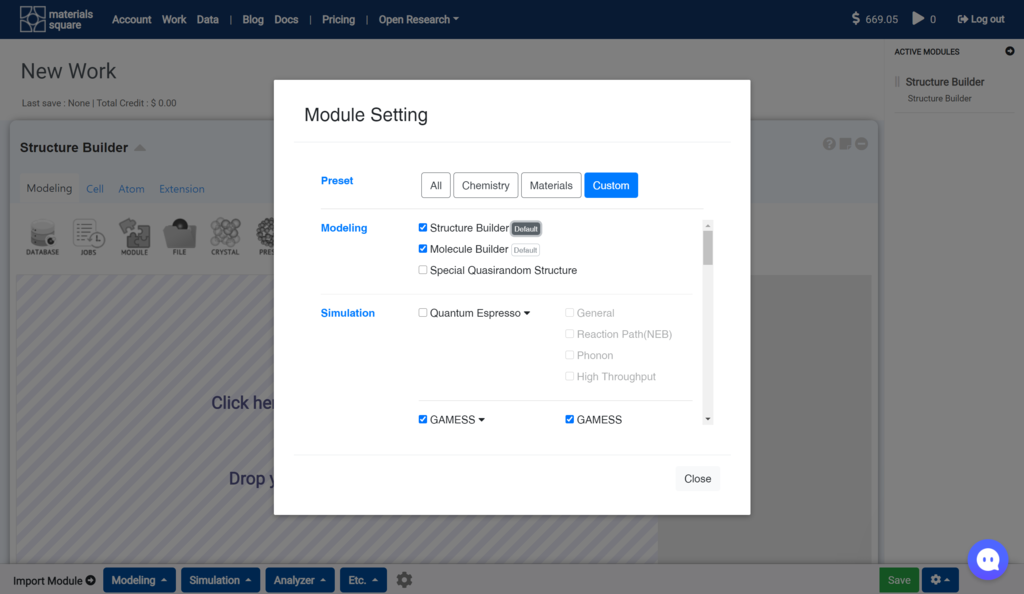 If you want to change the module settings again, you can open the Module Setting window by clicking the 'Setting' button next to the module selector.

In this module tip, we learned about the newly released convenience function 'Module Setting.'
Using the Module Setting, you can combine desired modules and optimize the simulation environment.
Create an efficient calculation environment for you using the Module Setting!
Need more information?
>Docs
[Work] Configuration of the Work page
[Modules] Modules