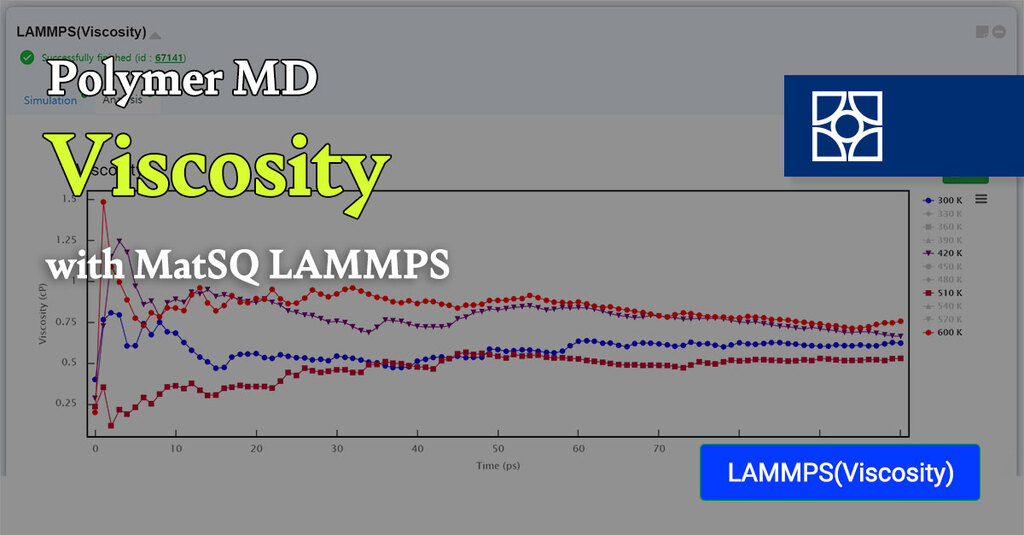 Plastic deformation occurs when external stress is applied to the material that exceeds its elastic limit. In the case of amorphous materials, plastic deformation occurs in a similar way to the flow of liquids. Therefore, this can be explained by the viscous flow mechanism.
In particular, the quantity of viscosity (η) is a fundamental factor in determining such viscous flow. Viscosity is a time-dependent characteristic.
For more Information on this topic, please refer to the " Viscoelastic properties of polymers" article.
This module tip aims to find the viscosity of a certain polymer system as a function of temperature using the LAMMPS (Viscosity) module.
Calculation Procedure
We need the successfully finished 'LAMMPS (Thermalization)' module to calculate the viscosity .
You can perform the thermalization calculation by referring to the following posts.
Structure optimization (Thermalization): The Essential Step for Polymer Simulation – Thermalization
The calculation is conducted via the Green-Kubo method, an equilibrium molecular dynamics calculation. Therefore, we cannot adjust the strain rate. The average viscosity of the material can therefore be calculated in this way.
Calculation Results

Following the calculation, you can check the resulting viscosity data as a function of temperature and time, as shown in the example above.
Example Video
🍀 Need more Information?
>Docs
[Modules] Molecule Builder
>Blog
[MatSQ Tip] Molecule Modeling in Materials Square
[MatSQ Tip] How to Model Complicated Molecule
[MatSQ Tip] How to Model Polymer in 3D: Molecule Builder
[MatSQ Tip] PolymRize: Predict polymer properties
LAMMPS : Molecular Dynamics Simulation for Polymer – Polymer MD
LAMMPS: How to perform the polymer simulation – Polymer MD Modeling
LAMMPS: The Essential Step for Polymer Simulation – Thermalization
LAMMPS: The Property of Polymer - Glass Transition Temperature
LAMMPS : Special mechanical properties of Polymers – Elastic properties
LAMMPS : The Electrical Properties of Polymers – Dielectric Constant